It's not easy getting pregnant, you know, being a guy and all. I never really thought about myself being pregnant, and I didn't even think that I was that fat. But then one day, about 7 years ago now, my five year old daughter observed me with my shirt off.
"Whoah, Dad, you look like you're pregnant," she said.
I laughed (and maybe cried a little) on the inside and let out a little smirk.
"Gee, how do you really feel?" I responded.
My little princess looked me over one more time, and after 3.5 seconds of deep thought, she came back with, "I really feel bad for you."
At least she was honest. Cute and honest. It's funny how when a little kid says something and it's funny, but if an adult says it, it is completely rude. But I am thankful she pointed out my pregnant belly to me for two reasons. 1, it gives me something funny to write about. And 2, it was something that inspired me to get healthy and set a better example for her and my future children.
I know often times we use kids as an excuse to not exercise. As it turns out, kids do require time. Lots of it. Soccer (baseball, football, softball, etc.) practice, school activities, homework, and more. It is easy to let those things consume you and leave you with presumably no time for exercise.
That does not have to be the case though.
You might not be able to get a 90-minute gym session in every single day, but fortunately, you don't have to. If you do the right exercises, you can get away with just 3 days per week.
Use your kids as a motivator to go to the gym, not to avoid it.
I have to confess, there have been times where I used my kids as an excuse to avoid working out. I used to have this "all-or-nothing" approach – 6 days per week, or zero. There was no inbetween. But eventually I found out that with kids (I have 3 now, with one on the way!) that 6-days-per-week workout schedules don't always work out.
I found a baseline approach.
Instead of telling myself that I need to always do 5 or 6 days per week, I promised myself to never go below 3 days per week. When I can get 4 days per week, cool. When I can do 5 days per week, even better. But 3 is my baseline. This allows me avoid any rollercoaster ride with fat loss. I remain consistent, and consistency is one of the biggest factors in getting results and maintaining results.
That is why I have dedicated the last couple of months to creating Weightlifting for Busy Moms and Dads. This workout plan and book along with video demonstrations shows busy people how to build muscle and burn fat using the best techniques I have found to get the most out of a time-constrained workout schedule. It's awesome because it's a customizable plan that can adjust to your busy schedule.
Click on the banner below and get it now for a LOW price today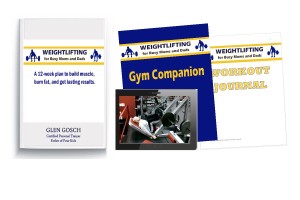 These days I am no longer the fat (or "pregnant") dad I once was. Not long ago, my daughter (the one that called me pregnant) remarked about how "muscle-y" I looked with my shirt off. So I guess I'm doing something right. After all, kids seem to tell it like it is.