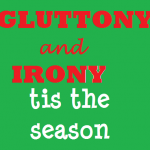 As we have finished up the Christmas holiday and move toward New Year's day, I must say that I feel pretty good having not given way to sweets and treats over the Holiday season. Now, I'm not saying that brag, nor am I seeking a "good job" from those reading this. But, as I stepped on my scale today and weighed 2 pounds less than I did the week before Christmas, I thought about some of the things I have heard in-person and posts I have read online over the past couple of weeks.
"I want to escape the holidays without gaining too much weight"
"No diet during Christmas for me; this is the time of year to enjoy lots of cookies, cakes, and desserts"
(and other things of that nature)
It got me thinking: Why is Christmas synonymous with over-eating? This is the time of year that most of us in America are celebrating the birth of Jesus. So, why do people partake in gluttonous behavior (gluttony is a sin, by the way) at a time when we are celebrating the birth of Christ, and really, the birth of Christianity?
During Christmas time shouldn't we be taking care of our bodies? Promoting health, vigor, well-being, and taking care of the temples that are our bodies?
"So, whether you eat or drink, or whatever you do, do all to the glory of God." 1 Corr. 10:31
"Or do you not know that your body is a temple of the Holy Spirit within you, whom you have from God? You are not your own, for you were bought with a price. So glorify God in your body." 1 Corr. 6:19-20
Now, I am not a Biblical scholar, but as far as I know there is nothing in the Bible that tells us not to have a piece of cheesecake, a couple of cookies, or even a glass of wine. But there are multiple verses that specifically say not to overdo things, whether it is eating or drinking.
"Do not join those who drink too much wine or gorge themselves on meat, for drunkards and gluttons become poor, and drowsiness clothes them in rags." Proverbs 23:20-21
We do a lot of great things during the season of Christmas. Church attendance is up. People donate to charity; feed the poor, give toys to children that don't have, and give food to those in need. Families come together. Maybe we should treat ourselves and our bodies with the kindness and grace that we show others during this time of year, and all year for that matter.