With the New Year upon us many people have set forth health and fitness goals: some will reach them, but a lot won't. One problem is that people fail to understand that it will not always be a perfect steady climb to successful results with the exercise routine they set out to do. Often times we see results later than sooner with a routine. We don't hit our goals until we feel the effects of the habits we adopt compounding over a period of time.
Two of my favorite books point out what the road to success really looks like. One is The Compound Effect by Darren Hardy and the other is the Slight Edge by Jeff Olson. Both provide diagrams that look something similar to this: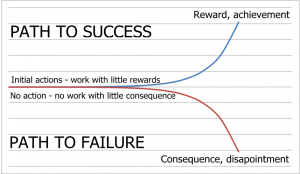 I agree with those, mostly, but I believe the path to success with fitness results looks something like this: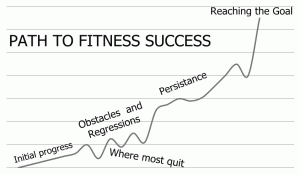 A lot of people tend to quit when they hit a bumpy road. Keep your goals in mind and have persistence and you can hit your fitness goals for 2013. Expect adversity, but don't let it take you off course. Exercise consistently all year, and I'll see you here next year when you have your goals accomplished.