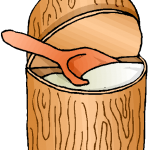 THE one thing to watch in your diet:
Okay there might be more than one thing to watch, but if you needed to just start on one thing, here it is: SUGAR.
Surf the web right now for diet hacks, diet plans, diet laws, diet theories, diet gospel and what-have-you and you will find all kinds of conflicting statements. Don't eat meat, don't eat grains, count calories, don't count calories, and so on.
One thing that is taught universally is low sugar consumption. Most sugar and sugary foods cause a response in the body that triggers fat production. Other foods that trigger a strong insulin response such as white bread, white potatoes, and instant rice have a similar effect. This essentially happens because sugar digests rapidly and needs a place to go. As with any food (or calorie) that enters the body, it needs to be used (burned off during activity) or stored in the body temporarily as sugar which will convert to fat if not used.
Don't just take my word for it! Look up sugar and the effects it has on the body. See what you find.