Shop
Recommended Fitness Programs
These are some of the programs I have personally used and recommend:
I have had two nice transformations with Beachbody products. The first is when I used 10 Minute Trainer and then P90X to lose over 50 pounds.
In April of 2012 I flipped a snowmobile and injured my shoulder which prevented me from doing a lot of the activities I had become accustomed to doing. So I gained a little weight back. P90X2 was the program I used to get back into shape again.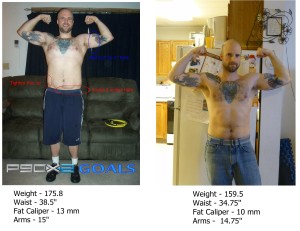 I have also used P90X One on One, Insanity, Insanity: Asylum, Tai Cheng, and even gave Hip Hop Abs a try once.
Recommended Supplements
My greatest supplement/nutrition recommendation is Shakeology. I began drinking Shakeology during my first completed round of P90X back in 2010 and I have not stopped drinking it since then. It's tastes great (not great for a health shake, really great!), it is filling, and it has more nutrition than a stack of supplements.
P90X Results and Recovery formula is another supplement that I drink regularly. The orange flavor is amazing and it is my go-to post workout drink.
Beachbody has a wide range of supplements including vitamins, pre-workout drinks, bodybuilding supplements, and more!