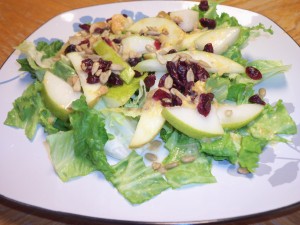 A different kind of fruit salad, this recipe is one that is easy to make and provides a nice lunch for 2. The sweetness of the apples and pears balances nice with the tangy tangerine dressing. Enjoy!
Tangerine Dressing:
Juice of 1 Tangerine (see directions)
1 Tbsp. Lemon Juice
1 tsp. Apple Cider Vinegar
1 Tbsp. Olive Oil
A few dashes of Sea Salt or Himalayan Salt
Directions:
1. Slice Tangerine in half. Remove a few pieces of the flesh and chop them up in small bits.
2. Juice the rest of the Tangerine into a cup.
3. Add the bits or chopped tangerine flesh to the juice along with the rest of the ingredients.
4. If you have a small food processor you can mix the dressing in that. Otherwise, mix well with a fork.
Apple and Pear Salad:
6 – 8 leaves of Lettuce (Green Leaf, Red Leaf, Romaine; your choice)
1 Apple
1 Pear
½ Cup dried Cranberries
¼ Cup Sunflower Seed Kernels
Lemon Juice
1. Core and slice Apple into thin slices. Sprinkle a little Lemon Juice on the apple slices and toss to be sure all parts of the apple slices contact the lemon juice (this prevents the apples from browning).
2. Cut Pear into ½ inch to 1 inch size chunks.
3. Chop Lettuce to desired size.
4. Toss lettuce with apples and pears; then divide evenly between 2 plates.
5. Top both salads evenly with cranberries and Seeds.
6. Top with Tangerine Dressing and serve.
For more recipes, click here.