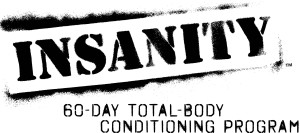 If you have ever done the Insanity workout, you may have had your definition of "intense exercise" re-defined. Insanity claims to be one of the "hardest workouts ever put on video" and it lives up to its name. Below are some words that you thought you knew the definition of – until you did Insanity.
Cardio – Exercise that stimulates the cardiorespiratory system is what you thought of the term cardio. Insanity definition: exercise that brings a near lung explosion.
Interval Cardio – Short bursts of intense cardio exercise, followed by longer periods of less-intense cardio or rest. No! The Insanity definition of interval cardio: long periods intense cardio (actual lung explosion) followed by a brief period of regular cardio.
Warm-up – You thought a warm-up was an easy beginning to a workout; some easy jogging, jumping jacks, stretches, real light weight lifting, etc. The Insanity definition of "warm-up" is: Read more…