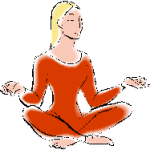 Good news! Lore Earley is back this week with another great post. Her last post on the site was awesome, and it looks like for the time-being she will be making some regular contributions to the blog roll here. I learned something new with her post today, I'm sure you will too. Enjoy!
Are You Like a Bull In a China Shop?
By:  Lore Earley
Exercise is meant to create balance.  It is supposed to work with your individual design to strengthen, tone, de-stress, and maybe even quiet the busy mind.  Does your exercise match your persona?  Is it helping you, or keeping you off-kilter?
According to Ayurveda, a form of natural healing and 'science of life' originating in India, people generally fall into one of three Doshas: Pitta, Vata, Kapha.  The Doshas refer to primary forces of energy.  Usually we are predominantly one and have a touch of another within us as it is rare for someone to be a true Kapha or true Vata, for example.
Knowing your Dosha type is actually very helpful when it comes to determining the kind of exercise that will bring you the most balance and bang for your buck.
The Bulls
Let's talk Pitta. Read more…