Though I am now a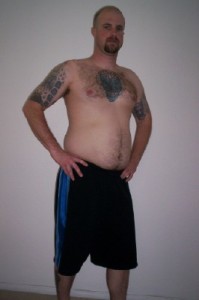 personal trainer, eat well, and have a low body fat percentage  – I was not always walking like I walk today.
In January of 2010 I was walking around at close to 215 pounds. I wasn't overweight, but it turns out, being 5' 8" tall, I was just about 6 ½ inches too short. Okay, I was fat. Yeah fat, not overweight, let's not sugarcoat it. I remember lying on my Nevada driver's license application and wrote down a weight of 190 lbs. "I am not going to be 210+ for long," I thought. And I wasn't.
Later in 2010 I made some changes. It started when I was working a graveyard shift and saw an infomercial for one of these "extreme" fitness programs. Guys getting ripped in 90 days. Women dropping pounds of fat in record time. I was sold. I gave the program a try.
After a few weeks of doing the workouts I was having some phenomenal results. It looked like this was really going to work. In no time I would actually match the 190 pounds on my driver's license. Woo hoo! Only I let some things get in the way. My schedule at work changed. Kids started afterschool sports. Time was getting the better of me. My workouts fizzled. My weight loss efforts fizzled too.
A couple of months later I saw another infomercial. Same guy from the extreme fitness commercial, only this time he promised to get me in shape in just 10 minutes a day. A gimmick? Read more…