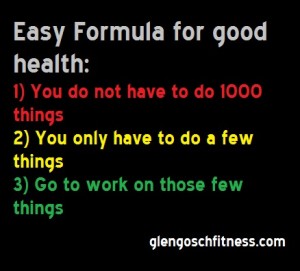 Often times we look at turning our health around as doing a complete turnaround. A transformation. The one hundred and eighty degree turn. And in many regards it is. Healthy to unhealthy; fat to lean; out of shape to fit – they are all great accomplishments.
But what does it take to get there? Changing your entire life around? Doing everything differently? Having to learn a million new ideas and new formulas to change? Nope, it is none of those.
It involves doing a few things differently. Adding a few new things. Taking away a few old things. Doing a few things that matter in a fraction of your day.
Exercising for 1/24 or 1/48 of your day. 30 to 60 minutes. Trading a TV show for a workout. Read more…