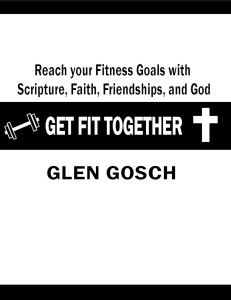 It's January, and it's about that time for me to release another book. This one here is completely free. If you like the articles I have written lately, I'm sure you'll like the book. It's full of that Glen Gosch sarcasm, humor, and even some useful stuff about achieving your fitness goals.
This one also taps into a spiritual element as well. In the coming weeks I am excited to announce that I will be leading a group at the Church I attend to help people start the New Year right and achieve health and fitness goals. I've also been asked to be a guest presenter for a class at a church some friends of mine attend too. This book corresponds with some of the things I will be speaking about during those presentations.
When you download the book, this is what you will learn:
What the Bible really says about health and fitness.
Answers to questions I get asked as a personal trainer including what to do for a fitness routine and how to stick with a routine.
7 easy to implement lifestyle habits that set you up for your success so you see your goals through.
How to stay inspired while going after goals. Read more…