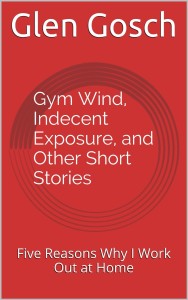 On the heels of my last post about gym experiences, today I bring you another short story from my gym going days, which is also a chapter in my new book Gym Wind, Indecent Exposure, and Other Short Stories available for download on Amazon.com.
"A Cast of Characters"
Do you ever give people that you have never met before nicknames? I think we all do to some degree, maybe not completely formal names, but we tend to put labels on those we run across. Easy ones are The Mailman, The Yard Guy, The UPS Guy, The Paper Boy, The Weather Man, etc. I have also had some less-traditional ones around town: Graveyard Gas Station Girl (not to be confused with Swing Shift Gas Station Girl), Taco Guy, Lunch Truck Dude, and Hot Dog Lady to name a few. These are all essentially names I have given to those whose names I would not normally bother to ask. The gym floor is no different. In my early gym years I had quite the cast of characters that I would encounter.
This chapter is a collection and description of 3 different people I came across in the gym as a teenager. I encountered each one on different days, but each one I would see regularly during my workout sessions with my workout partner Ryan. I was seventeen at the time, living with my parents in a city called Temecula in Southern California.
***
There are a few different types of people you will run into at the gym; scratch that – there are a few different attitudes you will run into at the gym. Some are cool, and some are, well, let's just call them not cool to keep it clean. The cool people make the gym a fun place to go spend an hour or two. They'll give you a spot when you need one. They'll provide just a little conversation in between sets of your exercises – just a little, the right amount – not a ramble that extends your rest time in-between sets to screw up your routine. They are not the know-it-all-types that blab and try to use big words to sound smart and be crowned King of the Gym. No, the Cool Guys will give you a quick, "How about them Lakers" and then let you get back to lifting. They'll share equipment, rub your
shoulders Read more…