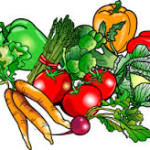 Veggies. You know you need to eat them, but you don't – or at least not enough of them. As a trainer, one of the biggest struggles I find my clients dealing with is nutrition and vegetables (or lack thereof). Here are some easy ways to get more veggies in your diet. WARNING: some of them are a bit unconventional.
Method 1: Veggies by Injection
This fairly new concept of ingesting (or "injecting") vegetables allows you to get all of the benefits of vegetables without having to chew, taste, or swallow them. Dr. Jose Doez from the University of Southern District Columbia has been an advocate of vegetable injections for nearly a decade. Doez says, "This is not the 1960's anymore. There are alternative ways giving your body the vitamins and nutrients it really needs from natural sources."
Vegetable injections can be done easily at home by simply using a food processor to break down the vegetables and then adding water to make the solution "injectable." A small amount of aluminum is added as well. The solution can then be injected using an 18-gauge needle and syringe.
Dr. Doez recommends using clean needles and not sharing needles – even with family members. "The risk of contracting a disease from from sharing veggie needles may outway the benefits of the vegetables themselves," says Doez.
DISCLAIMER AND WARNING: I completely made up Method 1. DO NOT inject vegetables into your bloodstream!
And now that I am done being a smartass, here are some REAL ways of getting veggies in: Read more…