The books that have helped me reach my fitness, health, and financial goals.
Here's a dumb question? If you want to lose weight, what kind of book should you read? Maybe you think it's a book on the best ab-shredding exercises. Maybe it's a diet book. While diet and exercise books can be very helpful, sometimes we need something different.
Most times, when I talk with people that are not achieving their fitness goals, rarely do I hear, "My workout plan sucks!" Most of the time there is some sort of self-admitting excuse as to why a fitness goal is left as a dream rather than an accomplishment.
"I don't have time to workout"
"I don't have the money to invest in a gym membership (personal training, online workout plan, etc.)"
"I need some motivation."
Really, none of those are directly related to exercise. If you have a gym membership you don't use, a workout plan you haven't tried, or a weight set in the garage collecting dust, you might need something more than another workout plan or new piece of equipment.   You might need to address the underlying issue with a different kind of book. No time to work out? Time for a book on time management. Makes sense, right?
I started reading personal development books a few years ago. Since doing so, I have lost over 50 pounds of fat, switched careers, self-published 2 eBooks, developed a workout program for busy moms and dads like me, started this website, and have written a countless amount of free content for this site. People often ask me, "How do you find time to do all of this?" The honest answer is, "I read more." And when I'm busy I listen to audiobooks as well.
Below I have compiled a list of my favorite books. Maybe these can help you achieve your fitness goals. Go through it, and if interested, you can click on the images or text to check out the books on Amazon.
Problem: No time to work out. Solution: Time management.

Eat That Frog by Brian Tracy. This book helped me get in the habit of making lists and notes. It also helped me with learning how to prioritize and how to say NO in certain situations.

Getting Things Done by David Allen. This book helped me fine-tune my lists in a new way. Lately I am getting far more things done by implementing a few of the strategies I learned in this book.
Problem: I don't have any money. Solution: Money management and getting out of debt.

Total Money Makeover by Dave Ramsey. Since reading this book and using some of Dave Ramsey's products my wife and I eliminated our credit card debt, bought two cars (cash, no car payments), paid cash for Jaki's master's degree, and put a down payment on a house – all within a span of two years and on a modest income. And there was even some money left over for healthy food and workout gear.
Problem: I am not motivated. Solution: Motivational books.
Note: The motivational books I read are not the "You are a beautiful person and everyone loves you" type of inspirational books. These are real-life, inspire you to be productive, and get things done type of books.

The Compound Effect by Darren Hardy – Just a great book. A quick read. A book that inspired me to start this website, change careers, and chase my dream of being a fitness professional and author.

The Slight Edge by Jeff Olson – A book that talks about little things making a big difference. This has a similar concept to the Compound Effect. I read this book around the same time I read the Compound effect, and it inspired me much in the same way.

The Five Major Pieces to the Life Puzzle by Jim Rohn – The words from this book are the most quoted on my Facebook and Twitter pages. I get fired up when I read this book.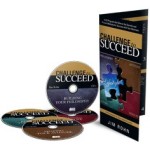 Challenge to Succeed by Jim Rohn – This is actually an audio program from one of Jim Rohn's seminars. It is my absolute favorite. It covers everything from health to money to relationships to time management. This is a program that I never get tired of listening to. In fact, I might listen to it when I am done writing this blog post.

Born to Win by Zig Ziglar and Tom Ziglar – Really I could put any book by Zig Ziglar here, but this is the last one he wrote before he passed away several years ago. It brings out the concepts found in his earlier works and brings them into a new light. A great book for setting and achieving goals.

Get Fit, Stay Fit, Remain Fit by Glen Gosch – It might seem a little self-indulging to claim my own book as one of my favorites, but I truly believe this is a book that can help you. It looks at fitness in a different way – more than just "do X amount of sets for Y amount of reps." I took a lot of what I have learned in my own personal development and put it into a quick read to help you achieve your fitness goals.
These are my favorites and my most recommended. Check them out. And as Darren Hardy says, "Don't just read the book; do the book."