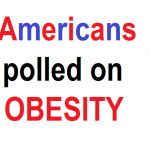 Stories on two recent polls about the obesity CRISIS, EPIDEMIC, DISEASE, HEALTH-DESTROYER are circling around the Internet. One poll shows that Americans are unaware of the effects of obesity such as infertility, increased risk of cancer, decreased ability to fight cancer and detect tumors, sleep apnea, as well as increased rate of asthma, stroke, and more. The poll showed Americans do understand that obesity leads to heart disease and diabetes.
The second poll shows most Americans do not think that government, schools, health care providers, and the food industry should be involved in aiding the obesity crisis. They feel it should be left up to individuals to make their own healthy choices. Many point to high costs of healthy food vs. low costs of fast food and unhealthy food as one motivating factor of why people eat unhealthy.

Glen's Opinion
I think I could write a book about these two polls, but a few things stand out:
1. The misconception of the "high cost of eating healthy."
Eating healthy does not cost more than eating unhealthy for several reasons.
Americans get the majority of their calories from junk food that is not needed. Soda, alcohol, and grain-based desserts are some of the most consumed "foods" in the United States. Cut these things out of the diet and your food bill will drop.
Most vegetables, fruits and whole grains cost less than junk food. Price a banana or a cup of cooked rice compared to a piece of cake or a bottle of soda. Meat is more expensive than some junk food, but meat is something most people buy anyways. Most of us do not need to increase our meat intake. We could use more veggies, varieties of grains (other than wheat), and water – all of which are not expensive.
It does not cost more to eat healthy.
2. We should leave it up to individuals to make the right choices.
If individuals understood the serious effects that come from eating unhealthy, perhaps they would make the right choices.
I am not sure that putting a ban on junk food or regulating what people should eat is the right action, but certainly government intervention by way of education would not hurt. We might need warnings on junk food labels and other unhealthy food items just as we are warned about cigarettes and alcohol. We should teach children the dangers of sugar just like we teach about the effects of Tabaco and alcohol. Sound crazy? Look at the number of people in the United States affected by lung cancer (largely due to cigarettes) and the number of people affected by diabetes (largely due to obesity and unhealthy eating).
Lung Cancer: 387,762
Diabetes: 25,800,000
Pre-diabetic: 79,000,000
This obesity crisis is urgent. It's not about freedom or government trying to control our lives by telling us what to do. It's about fighting a disease that is affecting more of our population than any other disease – by a lot!
These recent polls on obesity tell us that education and prevention are a not only necessary, but an urgent need in America today. We can reverse the trend of the disease; it might not be overnight, but we can do it.
Web sources:
Lauran Neergaard and Jennifer Agiesta, Associated Press "Poll: Few Americans know all the risks of obesity" http://news.yahoo.com/poll-few-americans-know-risks-134543155.html

Lauran Neergaard and Jennifer Agiesta, Associated Press "Poll: Obesity's a crisis but we want our junk food" http://news.yahoo.com/poll-obesitys-crisis-want-junk-food-082337313.html

USDA, Dietary Guidelines for Americans, 2010 http://www.cnpp.usda.gov/DGAs2010-PolicyDocument.htm
American Diabetes Association "Diabetes Basics: Diabetes Statistics http://www.diabetes.org/diabetes-basics/diabetes-statistics/?loc=DropDownDB-stats
National Cancer Institute http://seer.cancer.gov/statfacts/html/lungb.html