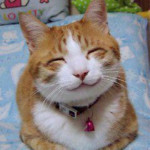 It was a big day. My flight was just a few hours from taking off and then I would be on my way to perhaps the biggest business meetings of my life. Five days of good looking women, great tasting tacos, and California sunshine. It was also the first time I was going to be away from him for longer than a day. Mr. Friskers and I had never been apart.
The doorbell rang. It was the cat sitter/house sitter, Jim, a former coworker of mine. I greeted him and showed him all of Mr. Friskers things – his bed, his toilet stool, the homemade cat food food, etc.
"Homemade cat food?" Jim questioned, "Is that like some dried fish or something?"
"No," I said, "Mr. F does not eat fish. He's vegan."
"Wait a second. You're telling me that if I popped open a can of tuna, he wouldn't eat it?"
"Do NOT give him tuna," I replied with friendly sternness. "It's not good for him. It's hard to digest. And this isn't the 1900's, cats have evolved. They do just fine without meat. Anyways, so, yeah, just give him his soy cat food. And here is his leash for when he goes outside."
"He has a leash?" Jim questioned. I could tell by now that Jim had never experienced a progressive pet owner like myself. All I could think is how if Jim owned a cat how the poor feline would be eating animal flesh and doing other stupid things like running. I knew I had to explain the leash.
"It's so he doesn't run. Running is hard on his joints, so he does yoga. His yoga mat is in the garage. If it's warm out he'll do it in the garage. If not, just crank up the heater to 90 degrees and he can do it in here."
"Dude, it's August. You want me to turn on the heater for your cat?"
"Just for like an hour or two, when he does yoga. The heat releases toxins. And he sleeps like a kitten after that. Don't you Mr. Friskers," I said turning to the cat. "You love hot yoga, don't you? Don't you? Good kitty."
I looked at my watch and realized I had to leave to catch my flight. "Well, I've got to jet outta here, Jim. If you have any questions, you can give me a call."
"I already have plenty."
***
Hope you enjoyed the story. Stay tuned for my next one titled, "Me and My Paleo Dog."