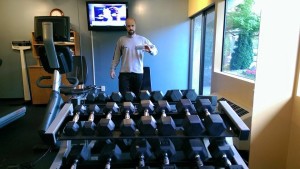 The family and I took a trip to the Seattle area this past weekend to visit family, and rest assured, since it was a mini vacation there would be some indulgence in fish 'n chips, local micro brews, and chocolate. There would be some working out too.

When it's a good idea to workout on the road
I don't do a planned workout every time I go out of town.  Sometimes it is not necessary. But, depending on the length of your vacation, working out is a good idea if you plan on doing any of the following:

Eating more calories than you normally do
Are not getting a ton of physical activity on vacation (like walking 10 miles of an amusement park)
You like working out
You are on a family vaca and mom or dad wants a little "me time" for a bit
How I work out in hotels
Generally speaking, I don't do anything crazy in hotel gyms. I'm not trying to max out on any lifts, I'm not psyching myself up, and I am definitely not yelling and grunting. But… I still get a good workout in.
My hotel workouts will (generally) have a few qualities:
Light weights
High reps, 12 to 20 on most exercises
Lifting below failure
A fairly fast pace and tempo
Every now and then I will stay at a place that has an extensive workout room with free weights, benches, cable machines, etc. and in those cases I might do something similar to my regular routine. But most times I do some sort of metabolic resistance workout – worth my time, but not overly strenuous.
My most recent workout
Here is a workout you can do if you stay in a hotel that has some free weights.
5 minutes of warm up cardio (I used an elliptical machine)

 

Push ups

Single leg squat with dumbbell to counter balance

Curl/Press combo

Dumbbell Swing

1 min Jumping Jacks

Rest for about 30 seconds to 1 minute

(repeat for a total of 3 circuits)
At the end of this I realized I sort of neglected my upper back, so I did a couple sets of dumbbell rows.
5 minutes of cardio to finish (I used the treadmill)
Here is a video of the workout