Sugar is everywhere in the foods that we eat and feed our kids. Some sources of sugar are obvious such as soda, cookies, cake, and other treats. You may be surprised at where else sugar is lurking in your family's food supply though. Let's take a look at where you, your kids, and the rest of your family are getting sugar from and look at some tips on how you can reduce the amount of sugar in your family's diet.
First I think it is important to understand just how much sugar our kids are consuming. The list below shows the top sources of calories for kids age 2-18 in the United States. (Items that may contain added sugar are in bold)
1. Grain-based desserts
2. Pizza*
3. Soda/energy/sports drinks
4. Yeast breads
5. Chicken and chicken mixed dishes*
6. Pasta and pasta dishes*
7. Reduced fat milk**
8. Dairy desserts
9. Potato/corn/other chips*
10. Read-to-eat cereals
11. Tortillas, burritos, tacos*
12. Whole milk**
13. Candy
14. Fruit drinks
15. Burgers*
*These items may contain added sugars as well. A lot of processed meats (chicken nuggets, sausage, pepperoni, etc.) contain added sugar. Pasta sauces, chips, seasonings, and fast food items may contain added sugar as well.
**Milk does contain lactose, a natural sugar. Natural sugars that are found in milk products can be a part of a healthy diet.
As you can see, sugar is in a lot of the most common foods that our children eat. Make no mistake that sugar is an important part of the diet. We can get sugar in our kids' diets through fruit, vegetables, and milk products. Fruit and vegetables are not even in the top 25 foods that our kids eat – though they should be. What we want to stay away from is added sugars.
I wish it were easy enough to be able to look for the word "sugar" on the ingredient list on the nutrition labels of food, but sugar has a lot of different forms and names. Below is a list of names and types of different sugars.
Agave nectar/syrup
Brown sugar
Cane sugar
Caramel
Corn syrup
Carob syrup
Dextrin
Dextrose
Evaporated cane juice
Fructose
Fruit juice concentrate
Galactose
Glucose
High fructose corn syrup
Honey
Lactose
Maple Syrup
Maltose
Malt syrup
Molasses
Powdered sugar
Sorbitol
Sucrose
Syrup
Turbinado sugar
WOW! That's a lot of different types and names, and a lot to watch out for. A little added sugar in the diet probably is not going to do much harm, but unfortunately our kids are getting more than a little bit.
Reading food labels can be a great start to finding added sugars in the products that your kids (and you) are eating. When reading food labels there are two parts:
Nutrition Facts – these show the amount of carbs, fats, protein, and other nutrients in foods. Sugar is listed under carbohydrates. This can be useful in most cases, but understand that some products do contain naturally occurring sugars such as milk.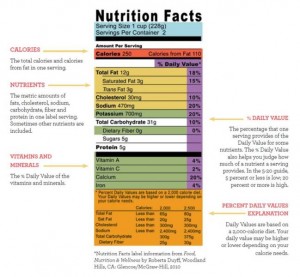 Ingredients – often the "fine print" of a food label. This will show everything that is in a product including added sugars. This is often found below or next to the Nutrition Facts.
Beyond the obvious products with added sugar there are several others that may contain extra sugar:
Fruit snacks (the gummy snacks marketed to kids)
Fruit bars
Dried fruit
Pudding
Yogurt (especially brands marketed to kids)
Flavored popcorn
Granola bars
Gum
Cold cereal
Instant oatmeal
Instant warm cereal
Cereal bars
Muffins
Processed meats (sausage, processed ham, etc.)
Fruit juice
Flavored milk
Toaster pastries
Canned fruit and fruit salad
Applesauce
Processed meat (hot dogs, sausage, deli meat, etc.)
Ketchup
BBQ sauce
Teriyaki
Many varieties of condiments
Marinades
Salad dressing
Bread
Jam and jelly
Peanut butter
Trail mix
Pasta sauce
The good news is most of the items mentioned have alternate products that are not loaded with extra sugar. Natural peanut butter, no sugar added applesauce, and cereal with very small amounts of sugar are just a few examples.
If you are reading the above information and saying "Oh my gosh! That is what I feed my kids all the time!" then I have a way that you can start reducing these foods right away. I would love to be able to tell you to throw away all of the junk food and sugar-ridden foods in your cabinets and refrigerator and replace them with better options – hey, if you have the means to, go for it. But, a practical approach would be to start eliminating these products more and more each week.
Tips for reducing added sugar:
Replace soda with water – No surprise here. Soda is not needed and should be a treat at the very most.
Buy fresh fruit and vegetables instead of packaged snacks – Whole food products, like fruit, are great things to snack on. They are nutritious and often cheaper than buying packaged food.
Start with 5 – Look through your kitchen and find 5 products with added sugar. Next time you go shopping look for food products without the extra sugar or reduced sugar versions and buy those products in place of the ones you normally buy. Trying to transform your entire kitchen overnight may seem like a daunting task. Finding 5 products each week to replace with better options can give your kids a transformed diet in a month or so.
One caution to beware of when you are looking for added sugar is to beware of "sugar-free" products. What? I thought we wanted less sugar? We want to watch out for artificial sweeteners as well. Artificial sweeteners are the subject of other health concerns – more on that in another blog. For now watch out for aspartame, sucralose, saccharin, and neotame when looking at foods for your kids with less sugar.
I hope the tips above can help you or someone you know. Creating eating habits with less sugar for kids can have health benefits as they grow and also teach them habits to last beyond childhood.