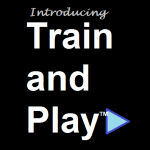 It's been a little while since the last post. I've been busy working on some new things. In the past several weeks I have been formatting, uploading, editing, and fine-tuning the website for Train and Play™ – "The fitness plan that shows you how to lose weight and get in shape with your favorite sports and activities."
Catchy, right? So catchy that I bet you can't wait to sign up and receive your free eBook right now. I knew it! You and the rest of my fans (who have become to be known as Glen Goschaholics) can now rejoice in my latest creation that is sure to change the face of fitness.
Okay, maybe there aren't any Goschaholics. But I really do think I have come up with a pretty appealing fitness plan with Train and Play™. The plan combines some strength training concepts with your activities of choice. I have shot some videos which are now accessible on the site to go along with the plan to demonstrate the exercises. The eBook is a 40-page guide complete with exercise descriptions, a schedule, printable workout sheets, a custom workout calendar, some eating tips, and other useful information.
Oh yeah, and it's free.
You can find out a little more about the plan on the Train and Play™ page here. To get the full guide, enter your email address and I'll get you the free eBook guide. Hope you enjoy it as much as I did putting it together. Alright – now that I have this up and running – I'm off to write more blog posts, create more fitness plans, write some books, and work to bring you the best in health and fitness solutions.