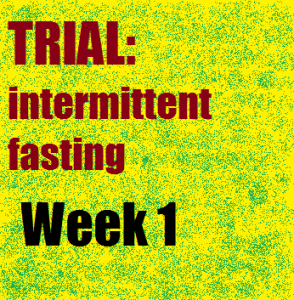 I'm biting. The bait and hook that is "intermittent fasting" has been put in front of me and I'm officially reeled in (sort of). I am going to start a new diet that consists of fasting, and eating whole foods – eating whole foods is nothing new, the daily fasting regimen is. I have done fasts in the past, but never of the intermittent variety in day-to-day life. I have done vegan diet plans, high-protein/low-carb plans, and balanced meal plans as well. This will be something new for me.
My personality goes like this:
"Ooooh… intermittent fasting – I'm in! Today! Right away! What a cool idea!"
Then the rationality/reality conscious kicks in.
"Intermittent fasting. What a neat idea. I'll start with some small steps, do a little more research online, read a couple of books on the subject, and then… get to it!"
Most intermittent fasting information out there suggests to take certain supplements, eat certain foods (mainly high-protein/high-fat/low-carb a.k.a. paleo-style), and fast at certain, specific times. The plan(s) that seems most appealing to me is doing a daily fast routine where we eat during a small window during the day and fast for remainder of the day, including sleep. The idea is to speed up fat burning in the body buy eating a large amount of calories in small amount of time, post workout.
Huh? Isn't that the opposite of what we have learned about nutrition? Aren't we supposed to eat five even-portioned meals throughout the day?
Maybe.
From what I have read, there is science supporting both sides. Is any one way better than the other? Probably a matter of opinion, but I am going to find out for myself.
A slight experiment on my part:
I am going to incorporate my regular training routine of P90X2® followed in the coming months by a round of Insanity®. This will be some intense training with an intense diet (maybe). I have done P90X and Insanity following meal plans of the 5 or 6 meals a day structure and have got great results in doing so.
Will this new plan bring better results? We'll see.
Here's my plan to get started:
First I am starting a real easy 12/12 plan. 12 hours of eating, followed by 12 hours of rest. No big deal.
Next I am switching my routine to morning workouts in a fasted state – no breakfast before working out. Again, a slight change.
Next comes the big change:  Wake up, don't eat. Don't eat more. Take a few supplements. Work out around noon to 1:00p.m. Now eat – a lot. Take a break. Eat a lot. Take a break. Eat a lot. Stop 3 hours before bed. Repeat.
Crazy? Maybe. Against the grain? Yes (notice the pun).
I am excited to see what intermittent fasting will bring to my body fat percentage and overall physique. I wonder how I will feel. I wonder how my athletic performance will be while I exercise. I'll be tracking my progress throughout, so stay tuned to see what happens…