Though I am now a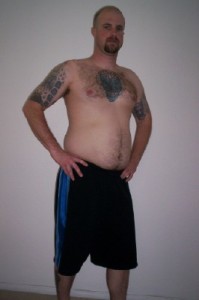 personal trainer, eat well, and have a low body fat percentage  – I was not always walking like I walk today.
In January of 2010 I was walking around at close to 215 pounds. I wasn't overweight, but it turns out, being 5' 8" tall, I was just about 6 ½ inches too short. Okay, I was fat. Yeah fat, not overweight, let's not sugarcoat it. I remember lying on my Nevada driver's license application and wrote down a weight of 190 lbs. "I am not going to be 210+ for long," I thought. And I wasn't.
Later in 2010 I made some changes. It started when I was working a graveyard shift and saw an infomercial for one of these "extreme" fitness programs. Guys getting ripped in 90 days. Women dropping pounds of fat in record time. I was sold. I gave the program a try.
After a few weeks of doing the workouts I was having some phenomenal results. It looked like this was really going to work. In no time I would actually match the 190 pounds on my driver's license. Woo hoo! Only I let some things get in the way. My schedule at work changed. Kids started afterschool sports. Time was getting the better of me. My workouts fizzled. My weight loss efforts fizzled too.
A couple of months later I saw another infomercial. Same guy from the extreme fitness commercial, only this time he promised to get me in shape in just 10 minutes a day. A gimmick? Well, heck, what did I have to lose (except about 50 pounds)? I was sold, again. I gave THIS program a try now.
These 10 minute workouts were no joke. Not nearly as hard as the hour-long DVDs I was doing, but they still were good workouts. I stayed consistent with these workouts and lost somewhere between 15 and 20 pounds in a 10-week period.
Then time was on my side again. Summer was here. Kids were getting out of school. Afterschool sports were done. It was time to give those extreme workouts a try – again.  There was nothing stopping me this time. I crushed the program. I got results like the guys on the infomercials. Stepping on the scale, I checked it at 155. Bam! Time to tell the truth on all future drivers' licenses!
As we approach the New Year, I know there are people out there saying, "I am going to start exercising again." Good for you! I have some advice though: If you start in January, keep going! If you start in January and fail in February , keep going! It's not what you do in January that will bring you results that last. It's what you do in January, Febuary, March, April, May, June, and beyond – into 2015. Your journey might not always be pretty and perfect. Find what works and keep pressing on.
Oh, and what workouts did I do? I started with P90X. I failed with P90X. I then saw trainer Tony Horton on TV again advertising 10 Minute Trainer. I tried and succeeded with 10MT. Once again I tried P90X and that time around I succeeded. This is what got me into fitness and launched my new career in coaching and personal training.
I just put some free workouts from Tony Horton on my blog. Check them out for a taste of his programs (click). See what got me started.
To check out all of the workout programs I recommend, click here.
Here's to a world where we can all be satisfied with our weight, and maybe even our driver's license photos,
Glen