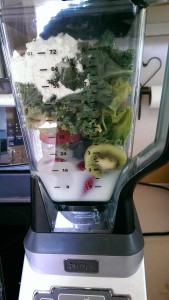 "I love the sweet taste of kale." Said. No. One. Ever. At least not anyone with fully functional taste buds. But kale is good for you. Well, that's what I heard on the Internet, and I know not everything you read on the internet is real, but I'm going with it.
Today I made a protein shake with kale, and it did not taste completely horrible, so I thought that I would share it with you.
Here it is:
3 or 4 ice cubes
8 oz. of milk (I like unsweetened almond milk, but whatever you want)
1 scoop of vanilla protein powder
A few strawberries
1 small kiwi fruit
Leaves of 3 stalks of kale
Juice of ½ a small lime
Put it all in a blender (I use a Ninja), and blend until smooth.
I tried this and it's pretty not horrible. As the cool kale concoction went down my throat, all I could think was, "Wow. Didn't even gag." My taste buds commented with, "Hey, that's not dog poo," and my stomach commented with, "you won't have to regurgitate this." If this hasn't sold you on kale yet, I don't know what will.
Honestly though, not bad. I couldn't completely taste the kale, and the flavors of strawberry and kiwi were pleasant. I added the lime juice as an afterthought after trying a few sips without it. The lime juice made it a lot better.