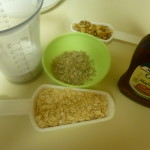 Why do people hire personal trainers? There is not one clear or definitive answer. I have people come to me for one on one training or take one of my classes for a variety of reasons. Sometimes it is to increase athletic performance, sometimes it is to learn how to exercise safely around a medical condition such as arthritis or high blood pressure, and sometimes it is to have a variety of new and creative workouts that are a few steps beyond what one would learn from a fitness magazine. Then there is the rare occasion that someone will come to me for losing weight or changing body composition. No. Actually that is a biggy – the dropping of the lbs; the melting of fat; the incineration of lard. People want to do that.
What are the two big components of weight loss? Easy answer here. No secret, no magic trick. It's diet and exercise. Diet is where a lot of people struggle. Some people absolutely kill it when it comes to working out, but when it comes to diet, well… something isn't working out.
Some people don't know what to eat. Paleo? Vegan? The Zone? No carbs after 11:59 a.m? Protein shakes? With the sea of information out there it is easy to get lost or just flat out shipwrecked.
And then there are those people who know what to do, but don't do it. They have a hard time staying on track when the winds of cheesecake are a blowin'. And honestly, it can seem difficult to eat healthy at times. From fast food joints, to convenience stores, to most of the center aisles of the grocery store – junk food is readily available. When you're treading in healthy waters, on the horizon is a tidal wave of potato chips, ice cream, and liquid beef in a can tempting your taste buds. Kidding about the liquid beef.
So what do we do as trainers do to help people in the nutrition department? Here is what many of us do:
Give basic nutrition advice. Essentially tell people to eat a bunch of vegetables, whole grains, lean protein, and some fruit. That's great in theory, but most people , in my opinion, need something a little more than that.
Refer to dietitians. This is great advice, but not everyone can afford a dietitian as an out of pocket expense.
Tell people to use a food journal. Food journals work great, for some people. For a lot of people there is a psychological thing that happens with the food journal: a conscious thought about everything that is consumed. "Do I really want to eat that, and do I really want to have to write it in my journal?" Some revelations can happen here too. "Wow , I knew I was eating sweets, but I didn't even realize it was that much!" I believe food journals are a great starting point for a lot of people, but I'm not sure how sustainable of a practice it is. How many days, weeks, months, years would you spend logging every piece of food you consume? I am not knocking the food log; I think it's a good practice. I just think it is a good short term practice.
Some trainers will write meal plans. This is not the thing to do. It is tempting to want to do it, but really it is beyond our scope of practice. Trainers are a part of a specialty practice. Still, some trainers get all excited if people ask them what to eat and start writing meal plans. What if you went to your family doctor and you started complaining about a toothache, and he got all excited and told you he could work on it? He wouldn't do that. He would refer you to a dentist. He might be able to give you some advice and some pain meds until you saw a dentist, but he would not work beyond his expertise. A similar rule applies to trainers: Give nutrition advice, but don't actually write out a meal plan.
So, as a trainer I wanted to figure out how to give people advice – the best advice. I believe one of the best things to do is help people create habits. Then I thought, "What are some habits I personally use that I could teach other people?"
The answer was obvious. It is a habit I learned a few years back when I worked a graveyard shift at work and felt like I had no time to cook and eat healthy foods. It is the same habit that many of my personal trainer friends use. I have also seen professional bodybuilders, models, and world renowned celebrities use. The habit involves preparation. It is about eating on purpose, not just randomly picking things up from the grocery store and then resorting the fast food and processed meals when you look in your cupboards full of food and yet find nothing to eat.
I grouped this general preparation habit into 3 easy-to-follow steps in my latest mini-eBook. If you already receive my email updates, you should have your copy. If you don't, just enter your email below and I'll send you the download link. You'll get some worksheets to go along with the book as well to help you reach your goals. It's the same worksheets I used to help a client lose 7 pounds in her first two weeks after implementing the habits. I list some real basic ideas for foods to eat in the book, but the sheets and habits learned in the book can by used with almost any diet plan – any good diet plan anyway.

So check it out, use the sheets, lose some weight, and let me know about it. Share it with your friends. Spread the weight loss awesomesauce.