I love pancakes in the morning! Add a little whey protein and peanut butter and you have a great way to start your day with over 30 grams of protein. See information below on how it can be used with the P90X®  and Insanity® meal plans.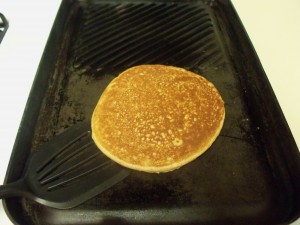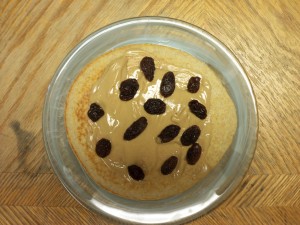 1/3 cup of flour* (I use stone-ground wheat)
1 scoop of Beachbody®'s Vanilla Whey Protein Powder
2 Tbsp. ground flax seeds*
½ tsp. baking powder
Dash of cinnamon
½ cup water
1 Tbsp. natural peanut butter
¼ cup of raisins
Cooking spray
Pre-heat a skillet on medium heat. In a medium size bowl combine the dry ingredients. Stir the water with the dry ingredients until it is fully mixed with no lumps. Spray the skillet just before cooking. Pour the entire mixture on to the skillet. Flip the pancake after the edges turn brown and start to bubble (about 3 minutes). Continue to cook an additional 3 minutes or until pancake is golden brown on both sides.
Spread peanut butter on the pancake and top with raisins.
P90X® portion plan:
Carb: 1
*The flour and the flax make up about 200 calories = to 1 carb serving
Protein: 1
Fruit: 1
Snack: ½ (This is a high calorie meal that hopefully hold you over till lunch with a little snack in between)
Insanity® meal plan: This is a 500 calorie meal. To make the meal about 350 calories, reduce flour to ¼ cup; reduce whey protein to ½ scoop; reduce flax seeds to 1 tablespoon; use slightly less raisins; reduce water to 1/3 cup.
This healthy recipe can help you start the day right. It is big enough that you can fold it up and take it on the go too.