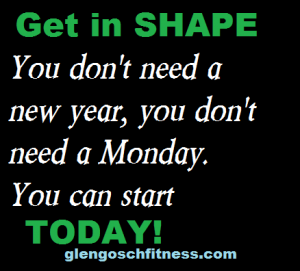 I am going to [eat better, lose weight, start exercising, get in shape, spend more time with my kids, stop smoking, save more money] next [year, winter, spring, summer, fall, school year, month, week] – so goes the mantra of many. You don't need a new year to get in shape (or do anything else); you don't even need a Monday. All you need is to take action. Immediately.
Waiting for the perfect time to start exercising? Stop waiting and go to work on it. Go ahead and give me 20 burpees right now. Okay, if you're at work, in a library, or in class, you can wait until you are in a better suited workout area (but you might be the coolest guy or gal in the office or library if you busted into a burpee sequence mid-day). My point is that there is no perfect time to get working on your goals. "Just do it" is probably one of the most used sayings of our time, but it's real. There is no better advice.
I am a big proponent of planning, scheduling, and being organized, but when you jump right into something you will have something on your side. Momentum. Getting started on what you want to do doesn't always require a master plan. Get going, and you can adjust your course along the way.