Alright, I've been getting a lot of questions about nutrition lately and the importance of nutrition in weight loss. How do I eat eat healthy on a budget? How do I eat healthy when my spouse is not on board? How can I stay consistent with my diet? I plan on addressing these and other questions in an upcoming video series, but for now I want to give you a glimpse into one healthy habit I have adopted, and that is preparing food ahead of time to make eating healthy a little easier throughout the week.
Typically, when I am really dialing in my diet, I like to prepare most of my meals for the week on Sunday. They might not all be fully prepared, but I get things set up for meals and snacks for the whole family. It takes an investment of a couple hours, 1 day per week. Believe me, it makes all the difference in the world to help me stay on track.
Last Sunday I snapped a few pictures while I was doing my food prep. Again, this is a snippet of what I have planned for my upcoming video series, but hopefully you can walk away with some good ideas from this blog.
First, here's a look at what my counter looks like when I'm about to start prepping. It is important to have several of this items on hand in order to be set up for success when preparing food.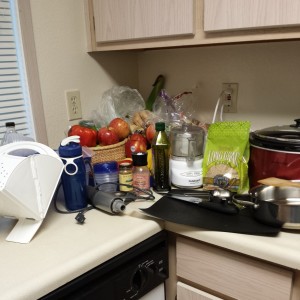 Here's a checklist, which I think every kitchen should have:
Non food items
Several cutting boards (I use these thin cutting sheets)
Plastic containers – Large, medium, small, and really small sizes
Plastic baggies
A water bottle – drink at least 9 cups per day for weight loss
A strainer and/or colander
Mixing bowls
Decent knives
Blender – I use an immersion blender
Food processor
Decent set of pots and pans
Crock Pot/slow cooker
Cooking utensils
A fruit and veggie basket
Food Items:
Seasonings
Whole grains – mostly not processed such as rice, oats, quinoa, millet, etc.
Oils such as extra-virgin olive oil, coconut oil, and grape seed oil
Fresh fruits and vegetables – several varieties and colors
Nuts and seeds – several varieties
Beans
Meat – diverse selections of poultry, fish, beef, pork, or game (alternate protein sources for vegeterians)
If the majority of your diet comes from these items, you are most likely in good shape.
You don't need these, it's okay to have some of these:
Whole grain cereal and bread
Milk and other dairy products
Protein or meal replacement shakes
Protein bars
Dried fruit
These items are not the foundation of a healthy diet, but sometimes can be convenient.
And, of course, try to keep chips, cookies, crackers, ice cream, and such out of the house. If they are not there, you won't eat them
Now, on to a sample of my food prep.
I start making any grains I might need first. This is some millet I am making for a salad. I'll make rice or quinoa too, if I plan on using it during the week. It's a lot easier to pull out some cooked rice to go with a dish on a busy weekday than having to take an hour or longer to make it the night of.
I picked up these peppers at a local farmer's fruit and veggie stand. The total price of these peppers was $1.07, and the lady that rang me up called it "a dollar even." I rinse the pepper under cold water and slice them in half.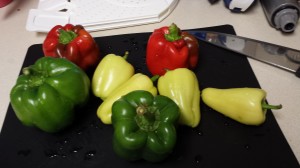 I remove the seeds and stem.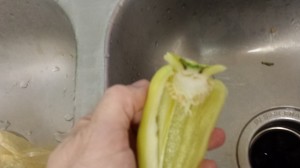 And I keep a plastic grocery bag out as a trash bag to discard the seeds, stems, and eventually carrot skins and other parts of vegetables that I will not be consuming.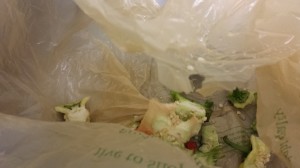 I slice some of the peppers thin for a lunch dish I am preparing right now. I store the rest of the halved, seeded peppers in a large plastic container so I can use them for fajitas later in the week. I find that if I keep them in halves they stay fresh for a few days, and then I can just slice them in under a minute when I use them later in the week.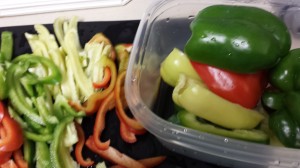 The salad I am preparing will be a cold salad with onion, peppers, millet, tomatoes, cilantro, olive oil, apple cider vinegar, Cholula hot sauce, pinto beans, corn, fresh salsa, a little bit of cumin, a little chili powder, and a little bit of Himalayan salt.
I put some sliced onions and peppers in a small food processor and chop them up.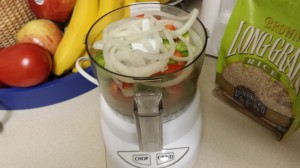 Using this method works well for other dishes too. It can seem hard to get several servings of vegetables throughout the day, but when I chop them up fine like this I can add it to a dish and and the veggies really take on the flavor of the seasonings in the dish I am making.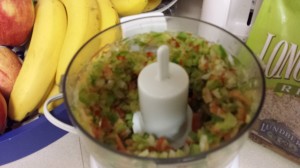 I love cilantro!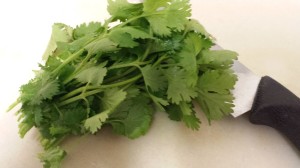 After the millet is done and cooled off, I toss all of the ingredients together and portion out 4 servings into plastic containers. They'll go in the fridge and then Jaki and I will each have 2 lunches ready to take to work with us.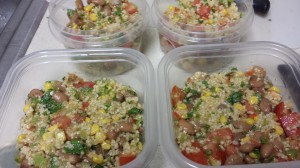 So, that kind of walks you through one dish. Typically I make several dishes and prep several dishes to make lunches and dinners meals that are minutes instead of hours to prepare during the busy work week.
Today, while making this dish, I also did the following:
Prepped some veggies for some Romaine lettuce salads
Sliced carrots for snacks and meals during the week
Soaked some oats for a breakfast dish called Muesli
Prepped some veggies for a roast to go in the crock pot for dinner tomorrow
Prepped some more veggies for split pea soup to go in the crock pot in a couple of days
Prepped some rice for several dishes during the week
Portioned out some nuts, seeds, and (mostly) unsweetened  dry fruit for trail mix, which Jaki, the kids, and I will have for snacks during the week.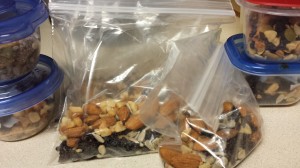 Many trail mixes you can buy in the store have a lot of added sugar. I choose to buy my own items separately and have a healthy mix of nuts, seeds, dried currants, and coconut. I chose to do one mix this week with chopped dates which had a little added dextrose – not too big of a deal when the rest of day is pretty clean and mostly free from added sugars.
Okay, I'd love to go into more details and give you all of my recipes, but that would be more like a book, then a blog post. Again, when I put the upcoming video series together, I'll go into a lot more detail and maybe even put out some printouts to go along with it.
Until then, I hope you enjoyed the post.
If you are interested in being the first to receive my upcoming video series (for FREE), enter your email below and I'll send them to your inbox as soon as I have them done.