Stay at Home Dad/Personal Trainer Helps YOU extinguish Fat – Even if You have Struggled with Weight Loss Before
↓ Watch this video ↓
Have you been thinking about losing weight?
Maybe you want to fit into those jeans again. Maybe you are tired of seeing the muffin top when you look in the mirror. Maybe you want to feel confident when you when you wear a simsuit in public (without a t-shirt or cover-up).  Maybe you have just had that moment where you said, "Enough!" For me it was when my daughter told me, "Dad, you look like your pregnant." Ouch! I asked her, "Wow, how do you really feel?" and without skipping a beat she said, "I really feel bad for you." Double ouch!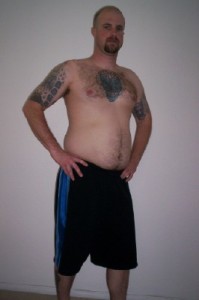 That was several years ago, but since then I have turned things around – and I will show you how to do the same!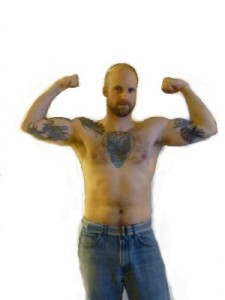 Imagine yourself without those extra 15, 25, 40 pounds or more fat…
What if you could finally lose the weight you want to lose, and keep it off for good? No more New Year's resolutions about weight loss, no more ups and downs with dieting, no more paying for a gym membership that never gets used. You can now get on a path of SUSTAINABLE weight loss. That's right, lose weight and keep it off for good.
How do I know you can lose weight and keep it off for good?
I know because I have done it myself. I lost over 50 pounds in a 5 month period, and I have kept it off for 4 years now!* No yo-yo exercising and dieting. No fads. Just real fitness and nutrition. I lost that 50 pounds when I was a  bartender working the graveyard shift at a small casino. During that time I also had 1 child in grade school and 1 child in preschool with both of them involved with dance lessons, soccer, girl scouts, and more. I was BUSY. I still did it. Oh yeah, and I did it all without stepping foot in a gym!
How did I do it, and more importantly, HOW CAN YOU DO IT?
I had 3 important things that worked for me, and continue to work for me.
#1 A top-notch fitness plan – I used America's most popular fitness brand P90X along with some other workout routines to get into phenomenal shape.
#2 A game-changing nutrition solution – I began to really pay attention to how I ate and the types of foods and supplements I was putting into my body. I learned a lot about nutrition from the P90X nutrition guide that came with the workout plan and DVDs and I began to eat more consciously. I was still able to enjoy many of the foods I enjoy; I just had a plan to implement for maximum weight loss. I also was introduced to Shakeology, the game-changing nutrition shake that helped me lose that impressive 50 pounds in 5 months.
#3 (this might be the biggest reason I succeeded and continue to succeed) – I had a COACH. I had someone to hold me accountable to my goals, someone to help keep me motivated, someone to encourage me, someone to relate to.
All of these elements are what make up the Beachbody Challenge. Take the Beachbody Challenge with a Challenge Pack today and crush your fitness and weight loss goals!
After I completed the Beachbody Challenge I was so thrilled with my results that I wanted to help other people reach their fitness goals, so I became a Coach – eventually I went on the become a Certified Personal Trainer. Now I am helping people achieve their goals and will help you do the same!
What do you get with a Challenge Pack?
A Challenge Pack comes with:
A fitness program of your choice: choose from several of our top of the line fitness programs, including P90X, P90X2, P90X3 (highly recommended), Insanity, Focus T25, Turbo Fire, Turbo Jam, Brazil Butt Lift, Body Beast, and more!
Your first 30-day supply of Shakeology – our high-protein superfood shake with over 70 ingredients from around the world. This shake is like having a salad bar and a cabinet full of supplements in a single serving! I have been drinking it for over 3 years now; I love the taste, and I love what it has done for me in terms of health and weight loss.
A free trial to the Team Beachbody Club membership – The club membership gets you access to exclusive online content, customized meal plans, and a 10% discount off all future purchases from Team Beachbody.
FREE COACHING – When you buy a Challenge Pack from me, you will be eligible to join my Challenge Group coaching. This involves daily motivation, tips, and interaction with me as you continue through your program to reach your goals. You will be entered into a private group on Facebook where you will get all the support you need to get the body and health that you want!
Are you ready to reach your weight loss goals?
Mike did P90X and lost over 60 pounds!*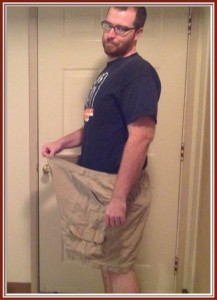 "I traded sixty pounds of fat for muscle, energy, and self-confidence. I feel better. I look better. I AM better." – Mike Speegle
If you are truly ready, then I will be 100% dedicated as your Coach to help you reach your goals! I am not going to lie; this is only for those that are SERIOUS about losing weight and getting in shape.
This is NOT for you if:
◊You are not ready to commit to your goals
◊You are unsure about making a decision to get started
◊You are not ready to step out of your comfort zone to crush your goals and lose weight for good
◊You are currently thinking of 101 reasons why you can't lose weight, get in shape, and accomplish great things
This IS FOR YOU if:
→You want a real solution to lose weight – permanently
→You are willing to tell yourself, "No more excuses!"
→You want access to the best fitness training, the best nutrition, and the best support and coaching to reach your goals
→You are ready to transform your body and transform your health
This all sounds so good… BUT… how much does all this cost?
There are a wide range of programs to choose from, so the price to get started actually varies. Our most popular programs cost

$205 for the first month. For $205 you will get:
Workout DVDs ($120 Value) – Choose from P90X, Insanity, Focus T25, P90X2, P90X3, or Brazil Butt Lift 90-Day Challenge (this is just the $205 tier – we have programs starting as low as $140).
Nutrition Plan – Included with your workout program. You'll know exactly what to eat to fuel your body for maximum results.
Workout Schedule and Calendar – You'll know exactly which workouts to do for the length of your program.
Shakeology ($129.95 Value) – The healthiest meal of the day! You get a 30-day supply to help fuel your body and lose weight during the challenge!
Club Membership Trial ($12 Value) – Custom meal plans, exclusive trainer tips, and more.
Free Shipping! ($20 Value)
THAT'S OVER $65 IN SAVINGS FROM RETAIL PRICE IN PRODUCTS ALONE
Remember you also get FREE coaching for the 90-day Challenge!
I charge $50 per session as a personal trainer to coach people in person – and that's just for a fraction of the day. In a Challenge Group you will have online access to me 7 days per week.
Did you know…?
LESS than 10% of people that join a gym or workout on their own actually stick with their fitness plan and reach their goals.
The success rate for those that work out with a personal trainer or coach is over 90%!
And of that over 90% success rate, 50% of those people exceed their weight loss expectations!
Why do you want to lose weight? IS YOUR WHY STRONG ENOUGH to do this right now for YOU?
When you are ready to get started, or just learn more, click the LINK below.
When you sign up I will even get you started with a 14-Day Quick Start Challenge. So while you are waiting for your workouts and Shakeology to arrive, you can get started losing weight right away! I will send you a FREE 14-day Eating Plan and a 14-day workout plan. I will even provide Coaching for FREE for 14 days. This is an exclusive offer, available only through me. There is no purchase necessary for this, it is my gift to you.
Get started now!

As a bonus, if you submit your before and after pictures you will have a chance to win the daily $500 prize, and even have a shot at the $100,000 grand prize!
Read this:
Here is the fine-print, printed very clearly:
When you buy a Challenge Pack, you get everything mentioned above. After your first 30 days you will be billed monthly for your Shakeology order at $129.95. You will also be billed for a Club Membership at $2.99 per week which is billed quarterly (every 3 months) at about $35. This is no obligation, no contract, and you can cancel at any time. But honestly, I have been drinking Shakeology for nearly 4 years now, and I expect you will do the same. It tastes that good, and the results are that good.
For a little over $4 per day, you have breakfast taken care of that includes a host of superfoods that would cost you hundreds of dollars if sold separately. Plus you continue to get free Coaching for the duration of your workouts in the Challenge Group setting online.
Are your goals worth $4.33 per day?
Well I would hope so! Millions of people spend more than that on things that kill them and sabotage their goals. Fast food, alcohol, donuts, expensive sugary coffee, cigarettes, and more. I know, because that used to be me!
Now I just drink Shakeology and exercise daily. When I first started buying Shakeology for me and my wife, I must admit that I thought, "How am I going to afford this for the both of us?" But when we stopped buying all that other junk our monthly bills were actually unaffected!
This is not the cheapest way to lose weight, it is also far from the most expensive

– BUT IT IS THE BEST!

Where else will you find a workout plan with DVDs, a nutrition plan, a health Coach, and a meal replacement Shake that will help you lose weight for under this price? You won't find this anywhere else.

Oh yeah, and you can try all of this RISK FREE. Get started and get my 14-Day Quick Start Challenge for FREE. And once you order your Challenge Pack you can try the complete Challenge (workouts, Shakeology, Coaching, and more) for 30 days and if you are not satisfied you can return the DVDs and even your empty bag of Shakeology for a refund! Try finding that deal at a gym!
LOSE TO WIN!
When you take the Beachbody Challenge you will even have the chance to win cash for submitting you before and after pictures!
Take a look at our 2013 $100,000 winner: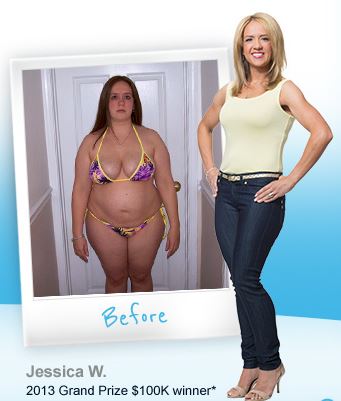 Are you ready?
I'd imagine if you have read this far, YOU ARE!
I'm looking forward to working with you to achieve your goals.
-Glen

*Results vary. Proper exercise and nutrition are needed to achieve weight loss.