Books
Gym Wind, Indecent Exposure, and Other Short Stories
What do you get when you give a fitness geek a laptop and some spare time? Five stories of his experiences at the gym: good, bad, gross, funny, inappropriate and all in short story form for your reading pleasure. 
A Cast of Characters 
Indecent Exposure 
Pooh Foot 
Gym Wind 
January 2 
All true stories, only slightly embellished.
What are people saying about Gym Wind?
"I'm going to have to encourage you to write more, thank you for the chuckles thus far good job 

 :D"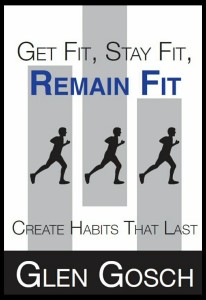 Get Fit, Stay Fit, Remain Fit: Create Habits that Last
There is no secret to losing weight, building muscle, and getting in shape. 
We have always had the tools. 
We have lacked in creating habits using the tools we have. 
In this breakthrough book you will not hear the same old advice you have always heard about health, fitness, and dieting. This book is about truly creating a healthy lifestyle and making exercise a lifelong habit. Get Fit, Stay Fit, Remain Fit is a discovery of: 
How to build a system for achieving the healthy body you want 
How to set goals, achieve goals, and stay on track as you go after your goals 
How to stay motivated with exercise for the long-term so that nothing will stop you in the pursuit of want you want to accomplish. 
It's time for you to achieve your health and fitness goals. Forever. No more fitness-related New Year's resolutions. No more going on diets. No more temporary results. With Get Fit, Stay Fit, Remain Fit you will create habits that last and create results that last.
What are people saying about Get Fit, Stay Fit, Remain Fit?
"First: thanks in part to Glen Gosch's advice, I traded sixty pounds of fat for muscle, energy, and self-confidence. I feel better. I look better. I AM better.
"So naturally people (who are used to my more corpulent form) are constantly asking me how I did it.
"I tried telling 'em that I just ate less and exercised more, but that's really only half the battle. Because if it were that easy we'd all be super foxy.
"So.
"In comes Glen Gosch with "Get Fit," a book full of common sense advice on how to shoehorn sensible health practices into your life. Your REAL life, not some ideal fairy-tale existence where free time flows like wine and tacos don't taste like crunchy nirvana.
"So you wanna feel better, live a little longer, maybe fit into pants made for a human? Then listen to some common sense advice. You'll be glad you did. And so will everyone else!"