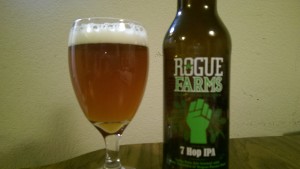 Welcome to a new feature on this blog, which may last for 2 weeks, or may last for eternity (or until I die anyway). Beer reviews. Why? Because I like beer. Also because I am working on a book to be titled "How to Lift Weights, Drink Beer, and not be Fat."  The book is still being developed, so in the meantime I decided to lead with some beer reviews.
  I might sound like I am either cheating on my wife with Rogue Farms 7 Hop IPA or that I am a spokesman for Rogue Ales after you are done reading this post, but I assure you that neither is true. But 7 Hop IPA is better than great.  
Hoppy, not bitter.  
Drinkable, flavorful.
Tastes great.  
Beers have sort of become wines. We look for characteristics to describe them. Hints of this, undertones of that. Citrus. Flora. Hops. Et cetera. I feel like that at times we look for ways to like well-intended craft brews just because #beer #merica #microbrews.
Then comes a craft brewer whose beers are all at least good, most of which are great, and some of which are phenomenal. That same craft brewery known as Rogue Ales puts out an IPA that breaks past the phenomenal plain and into a category known as heaven in a bottle (or pint glass).  
The kind of beer that makes you fall in love with beer again.  
The beer you would pick to accompany your last meal on Earth.
The beer you want next to you when you sleep at night.  
That is 7 Hop IPA.  
This beer pairs well with all food, all occasions, all seasons. 7 Hop IPA pretty much pairs well with life. I don't know how to describe this beer other than it tastes like an IPA should taste. It is good from the first sip to the last gulp.  
If you like IPAs, or even if you are on the fence about them, do yourself a favor and try Rogue Farms 7 Hop IPA.