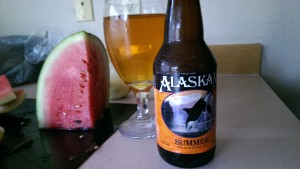 Being that I lived in Alaska for 3 years, I kind of have a soft spot in my heart for Alaskan Brewing Company, and being that I like good beer, I now have a soft spot in my heart for Alaskan Summer Ale (and everyone said… "Aaahhhh"). When hitting the Anchorage bar scene, I remember walking into almost any bar and finding at least one brew from Alaskan being served, and in the summer months Summer Ale would be available on several local taps. It was refreshing during those hot summer months in Alaska; "hot" being a relative term. 65 degrees feels scorching when you're coming out of a 40-degrees-below-zero winter. Now that I am no longer hopping bars in the Upper One, I have to get my Alaskan Summer Ale in a 6-pack here in the Lower 48. A rough life it is.
Summer is a Kölsch style ale. I am normally not really big on Kölsch style beers. For me they are kind of like kale in the realm of health foods: I really want to like it, but no. Not the case with Alaskan Summer though. This is a very balanced beer with great drinkability. Not bitter. It has a decent hop flavor, but definitely not a "hoppy" beer.
If I were to compare this to some of my favorite beers in taste alone, it would not be at the top of my list, but I am big on IPA's and other hop-overloaded ales, so it would be unfair to compare this to such beers. For a summer beer, this beer is perfect for me. When I am standing over a hot grill and doing up some meats all smokey-style, this pairs well. When the central Washington heat hits the triple digits and I just spent the last 2 hours mowing the lawn and doing yard work, I'm sorry, but an imperial IPA or imperial stout does not sound sound good. But after working up a sweat, reaching into the cooler and pulling out an Alaskan Summer Ale, cracking it open, and taking a nice big first gulp sounds just about right.
So, yeah. A very good summer beer. On point for the season. If you're looking for knock-your-socks-off flavor and high IBUs, not the right choice. But for backyard bbqs, a fun day at the lake, or for relaxing after a hard day's work in the summer months,  let's say you are in the market for a drinkable and flavorful brew – give this one a shot.