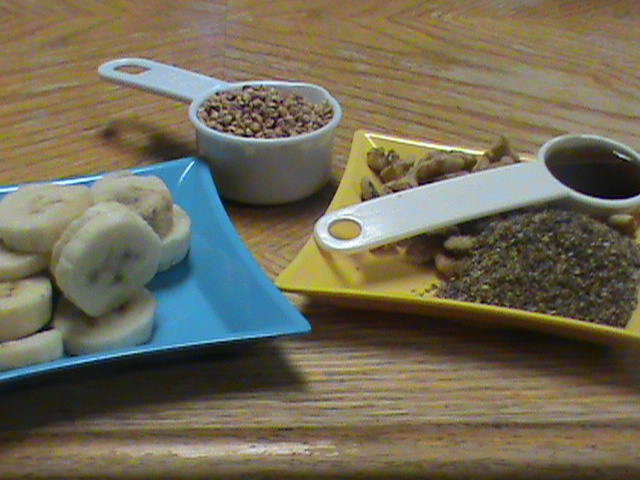 Buckwheat is a pseudo-grain food that can be used in a variety of ways. It is technically not a grain because it comes from a plant and not a grass. Despite its name, buckwheat is a wheat-free product. One way I use buckwheat is as a cereal in an oatmeal-like fashion.  The recipe below is one that I came up with that is delicious, a good source of protein, a good source of fiber, and vegan.
Bananas Foster Buckwheat Breakfast
½ cup Kasha (roasted buckwheat)
2 cups Water
Pinch of salt
1 Tbsp. Coconut Oil
1 Banana, sliced up
¼ cup Ground Flaxseed
½ cup chopped Walnuts
2 Tbsp. Maple Syrup (or more to taste)
½ tsp. Rum Extract (optional)
Bring water, salt, and coconut oil to a boil. Slowly stir in kasha. Reduce heat and cook for 10-12 minutes, or until all water is absorbed.
In a ramekin or small cup, combine maple syrup and rum extract.
Add banana, flaxseed, walnuts, and syrup to the cooked kasha and stir.
Serves 2.