About Glen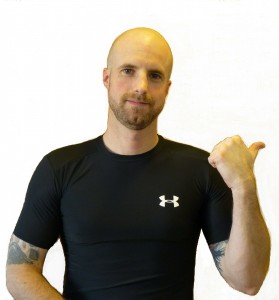 Professional Life
I have a passion for fitness and helping people achieve their fitness goals. A former overweight construction worker, then bartender, I am now enjoying "working" in the field of fitness at around 50 pounds lighter then I once was.
I am a Certified Personal Trainer, certified through the National Academy of Sports Medicine (NASM). I strive to help all people achieve their health in fitness goals at any age, any physical condition, and at any budget.
My "A-" Approach to Health and Fitness
I am not a bodybuilder, an Iron Man, a triathlete, or a professional athlete. You will not see me on the cover a fitness magazine unless a fitness magazine is cool with having a dude with 11-14% body fat on its cover.
I can do over 20 pull ups, but you won't find me breaking any deadlift records. I can run a 10K without puking, but the thought of running 26.2 miles makes me a little queasy. I am not ripped, I am fit. I can keep up with my kids playing at the park, I can do push ups, I can lift heavy things without throwing out my back, I have stamina (in the gym and elsewhere). I don't get a medal or prize for any of these things, but I feel pretty damn good about myself.
When it comes to diet I eat fairly "clean." I eat salad, organic fruits and veggies, lean meats, fish, nuts, seeds – mostly whole, nutritious foods. I also eat a hot dog, a slice (okay, several slices) of pizza, donuts, ice cream, bacon, and an occasional glass of wine when I feel like it.
Sometimes I train like a BEAST (freak, animal, athlete, Spartan, or what-have-you). Other times I work out 3 days per week.
Sometimes I eat really clean, count calories, track my macros, and trim up a little bit. Other times I eat mostly healthy following the "80/20 rule" – eat mostly healthy with those indulgences here and there.
Sometimes my diet and fitness routine gets the "A+" Grade, other times I am operating at a "B" (the 80/20 rule). Over the course of year, that gives me an "A-" and I am cool with that.
Personal Life
I enjoy spending time with my family most of all. We all like to go hiking and explore National Parks and forests together, or just spend time at home watching a movie. I stay active in the sports that my kids participate in and enjoy just running around a local park with them as well. Beyond activities with the family I also like to watch and practice martial arts, go for a run with my dog, and play basketball. Around the house I like to play guitar and watch sports on TV too.
The ideal day for me consists of the following:  A good workout or physical activity, a little bit of time on the Internet posting a blog or social media posts, spending some play time with the kids, and wrapping up the day watching a show on TV with my wife.