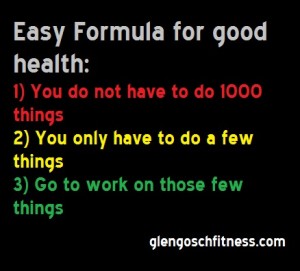 Often times we look at turning our health around as doing a complete turnaround. A transformation. The one hundred and eighty degree turn. And in many regards it is. Healthy to unhealthy; fat to lean; out of shape to fit – they are all great accomplishments.
But what does it take to get there? Changing your entire life around? Doing everything differently? Having to learn a million new ideas and new formulas to change? Nope, it is none of those.
It involves doing a few things differently. Adding a few new things. Taking away a few old things. Doing a few things that matter in a fraction of your day.
Exercising for 1/24 or 1/48 of your day. 30 to 60 minutes. Trading a TV show for a workout.
Making a few better choices at the grocery store. Trading processed food for whole foods.
Not changing 24 hours of your day.
Not giving up every food item you currently eat.
Focus on a few things to turn your health around. It does not need to be a daunting task that requires grueling hours of work and hours upon hours of dedication. Losing weight and getting in shape requires that you work on a few things. But you do have to work at it.
Like this article? Share it with your friends. Copy and paste the picture. Tweet it. Pin it. Share it. Spread the health.