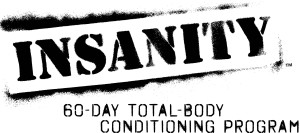 If you have ever done the Insanity workout, you may have had your definition of "intense exercise" re-defined. Insanity claims to be one of the "hardest workouts ever put on video" and it lives up to its name. Below are some words that you thought you knew the definition of – until you did Insanity.
Cardio – Exercise that stimulates the cardiorespiratory system is what you thought of the term cardio. Insanity definition: exercise that brings a near lung explosion.
Interval Cardio – Short bursts of intense cardio exercise, followed by longer periods of less-intense cardio or rest. No! The Insanity definition of interval cardio: long periods intense cardio (actual lung explosion) followed by a brief period of regular cardio.
Warm-up – You thought a warm-up was an easy beginning to a workout; some easy jogging, jumping jacks, stretches, real light weight lifting, etc. The Insanity definition of "warm-up" is:  exercise to the brink of lung explosion and/or cardiac arrest, then go ahead and stretch while your heart races at 550 beats per minute.
Recovery workout – You thought a recovery workout was something where you do something really easy otherwise defined as active rest: swimming, a leisurely bike ride, or something similar to give your body a break. The Insanity definition of recovery:  Instead of making your lungs explode with intense cardio intervals, make you muscles experience torture via lengthy lunge pulses, squat pulses, and ungodly lengths of time in the plank position.
Heisman – A football trophy given to college football stars. Nope. Hopping back and forth from leg to leg (not too hard), which is a prelude to the "1-2-3 Heisman" where you quickly step 3 times into each Heisman hop (again, not too hard). Then you get into the 3rd round of the sick joke that is the "warm-up" where you do the 1-2-3 Heisman at lighting speed trying to keep up with Shaun T as you trip over yourself.
Break – A period of no exercise. Wrong (at least in some of the workouts). An Insanity break involves going from cardio that is Illegal in 11 states (and most likely violates the Geneva Convention) to just regular cardio.