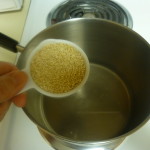 Today is 5 of 5 on this week's series 5 Days of Breakfasts with 5 Ingredients or Less. I hope you have found the recipes useful and they have given you some ideas on how you can have a healthy breakfast to start your day. A good breakfast can give you energy to start your day you are fueled up for whenever your workout time is. Today I bring you Breakfast Quinoa, a meal that is very versatile and can be made anyway you like it. This recipe features berries, nuts, flax, and honey for a great tasting alternative to oatmeal.
If you are new to quinoa (pronounced keen-wah), it is considered a pseudo grain, or something that has the consistency of a grain but is more of a grass. A lot of people use quinoa the way you would use rice. Quinoa takes on flavor of other foods really well which is why it is a good breakfast ingredient as well. Quinoa is a complete protein, meaning it contains all of the essential amino acids your body needs.
Breakfast Quinoa
Ingredients:
½ cup quinoa
1 cup of fresh berries (or frozen berries defrosted)
¼ cup chopped or slivered almonds
1 Tbsp. flax seeds
Approx. 1 tsp. honey
Directions:
Cook quinoa as directed on package. Generally quinoa is prepared similar to rice by boiling 1 cup of water per ½ cup of quinoa. Add quinoa to boiling water, reduce heat, cover and simmer until water is absorbed (about 10 minutes). Once prepared, divide the cooked quinoa evenly and use 1 serving today; refrigerate the remaining serving and use later in the week.
Add berries, almonds, and flax seeds to the quinoa in a small bowl. Stir the ingredients together. Drizzle with honey and enjoy.
Tips:
The quinoa can be made the night before as well. Simply make ahead, and use within one week. When you are ready for breakfast, dish out the quinoa and add the toppings.
Several different options can be applied to this idea as well. Anything that you would put on oatmeal you can mix in to your breakfast quinoa.
This can be enjoyed warm or cold.