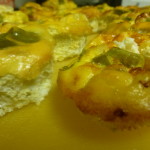 Here we go with Day 3 of 5. This week we have been bringing out a new recipe each day of some breakfast menu items that can save you some time in the mornings. Today we have Baked Egg Cups. These are a great thing to make on a weekend and then store away in the freezer for when they are ready to enjoy.
Baked Egg Cups
Ingredients:
12 eggs
About 1 cup chopped onion
About 1 cup chopped bell pepper
6 1 oz. slices of cheddar cheese, cut in 4 squares to make 24 small slices of cheese
Coconut (or other) oil or paper cupcake cups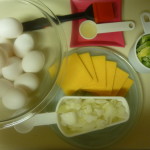 Directions:
Preheat the oven to 350 Crack the eggs into a large bowl and beat them with a fork or whisk until completely mixed. Grease a 12 cup muffin tin with oil or line with paper muffin/cupcake cups.  Use a ladle to evenly fill the tin with the beaten eggs. Evenly distribute the onion, peppers, and cheddar cheese among each of the 12 eggs in the muffin tin. Bake in the oven for about 20-25 minutes – Check at 15 minutes and keep checking often after that to avoid burning. Remove from the oven and let cool for several minutes. Remove each baked egg cup from the tin and let cool for several more minutes. Remove paper muffin cups if used. Place the egg cups on cutting board or other flat surface and place in the freezer for 20 minutes or longer – just until they start to freeze (this prevents the cups from sticking together). Next place the egg cups in a freezer bag for storage. Use the eggs within a couple of months.
When ready to use: Remove 1 or 2 egg cups from freezer and place on a microwave-safe plate. Microwave on high for about 2 minutes. Check at 1:30, adjust times  to your microwave. Eggs should reach a temperature of 165 degrees when re-heated.
These things are awesome! I like to have eggs a couple of times per week, and this can be a time saver on busy weekday mornings.
Tips:
Paper cups work well here. They might stick to the eggs a little, but they can save clean-up time.
You can explore different options here – whatever you would traditionally eat in an omelet.
Serve with a whole grain slice of toast or a side of fruit for a complete breakfast with carbs, fat, and protein.