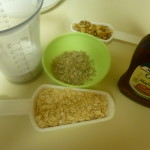 Have you ever skipped breakfast? Breakfast is easy to skip and forget and it is also an easy time to reach for something high in sugar, artificial ingredients, and have a carb overload. This week on the blog I am doing a new breakfast recipe each day, for 5 days with each breakfast containing 5 ingredients or less!
This first recipe is for muesli. This Swiss breakfast dish is a quick, make-ahead option that takes minutes to make and can save you time in the morning. You can eat it at home or take it on the go.
Enjoy!
Muesli
Ingredients:
½ cup rolled oats
¼ cup chopped walnuts
2 Tbsp. sunflower seed kernels
½ cup milk (cow's milk, almond, coconut – your choice)
1 Tbsp. of maple syrup
Directions:
In a small bowl or plastic container combine the rolled oats, walnuts, and sunflower seeds. Pour milk over the oat mixture. Lightly press the oat mixture down so it will soak up the milk. Cover and refrigerate overnight. The next morning, drizzle maple syrup over the muesli and enjoy on the spot or take it to go.
I love this recipe; my wife and I usually have it once or twice each week. Sometimes we mix up the toppings, but this is our go-to combo. You might want to try other nuts, flaxseeds, or coconut oil to mix things up. I generally eat this it at home and Jaki takes it with her to work to eat at her desk in the morning.
Tips:
Use real organic milk or use unsweetened alternative milk varieties. There is enough sugar in the maple syrup without adding sweetened beverages.
Get real maple syrup. The ingredients on the label should read "maple syrup" and nothing else. Avoid "maple flavored syrup" as products like these are often high-fructose corn syrup with maple flavoring.
Eat this once or twice a week.  Added maple syrup here and there is not going to kill you, but consuming it daily could lead to a little overload of sugar, especially if you consume more sugar throughout the day.