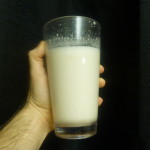 Day 4 of the 5 Days of Breakfasts with 5 Ingredients or Less! Today is another real easy one: I am simply suggested a protein shake recipe. There are thousands of options with this. I always have whey protein in the house to mix with frozen fruit, nut butters, and other ingredients for a supper quick meal replacement shake. This recipe is a twist on a Mexican beverage called horchata.
Horchata Protein Shake
1 scoop of vanilla whey protein
8-10 oz. of rice milk, or regular milk
A few dashes of cinnamon
Ice
Put all the ingredients in a blender and blend until the ice is chopped completely and shake is smooth. Or put all ingredients in a large cup and blend with an immersion blender.
Protein shakes are a staple in the Gosch house. Our blender gets a daily workout!
Tips:
Buy organic ingredients.
Serve with a side of mango, pineapple, berries, an orange, or other fruit.