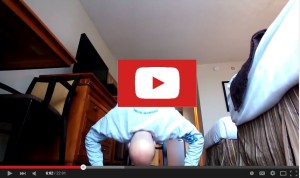 Last week I was in San Diego for a small meeting with some other fitness pros. It was a busy mid-week trip and I had A LOT to do. People to meet, things to write, business concepts to plan, and more. I knew since I had so many things to do, I would not have time for an hour-long workout. So I wrote out this 20 minute full body routine that I could with nothing but my body weight and the use of a chair right there in my hotel room. As I wrote it out, I thought, "I should share this workout on YouTube so anyone looking for a full body workout without equipment could use it." So I recorded it for you to use as needed.
Funny story: As I was in the middle of recording it, I realized the timer I wanted to use was on my phone. Problem: The phone was also my video camera. Luckily I quickly found my watch in my backpack, so it all worked out.
Check out the workout below and give it a try. Let me know in the comments how you liked it and feel free to share it with anyone you know that might need a full body workout that can be done anywhere.
(The 20 Minute Full Body Workout video is below, and the list of exercises is below that)


Warm Up – 3 minutes
Full Body Circuit
Push Ups
Dips
Bodyweight Back Fly
Pike Push Ups
Squats
Lunges
Burpees
(repeat once more, then go to the 20/10 Interval Finisher)
20/10 Interval Finisher (20 seconds work, 10 seconds rest)
Speed Push Ups
Speed Dips
Back-striking elbows
Speed Pikes
Speed Squats
Jump Lunges
Burpees
Burpees (again)