Alright, I've been getting a lot of questions about nutrition lately and the importance of nutrition in weight loss. How do I eat eat healthy on a budget? How do I eat healthy when my spouse is not on board? How can I stay consistent with my diet? I plan on addressing these and other questions in an upcoming video series, but for now I want to give you a glimpse into one healthy habit I have adopted, and that is preparing food ahead of time to make eating healthy a little easier throughout the week.
Typically, when I am really dialing in my diet, I like to prepare most of my meals for the week on Sunday. They might not all be fully prepared, but I get things set up for meals and snacks for the whole family. It takes an investment of a couple hours, 1 day per week. Believe me, it makes all the difference in the world to help me stay on track.
Last Sunday I snapped a few pictures while I was doing my food prep. Again, this is a snippet of what I have planned for my upcoming video series, but hopefully you can walk away with some good ideas from this blog.
First, here's a look at what my counter looks like when I'm about to start prepping. It is important to have several of this items on hand in order to be set up for success when preparing food.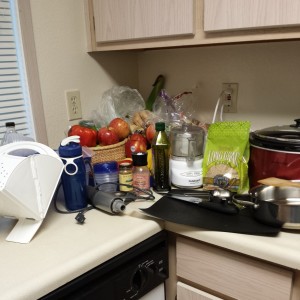 Here's a checklist, which I think every kitchen should have: Read more…